Nova's christmas gift 2002

To everyone, from Nova! Merry christmas and happy new year!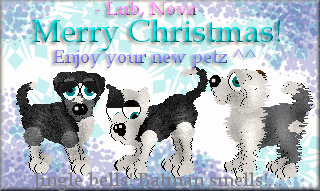 You also get a christmas gift! Or 24, to be more exact! 24 pups and kittens for Petz! Hexed and natural... Dogz and catz, Petz 3/4 and Petz 5, purebred and mixed... Most are natural dogz, but there are hexed ones as well, and several catz! Here are a few examples of the petz that you get:



There are two zip files to download. The first one contains 8 petz for Petz 3/4, the second contains 17 petz for Petz 5!
Download zip file 1: including a hexed dali litter, a hexed dane as well as several mixies and a top-quality dane after Chimera and Hydra
Download zip file 2: including a bobtail/fold litter, a purebred B+W litter, several natural dogz litters, including a tamsin pup or two as well a purebred shepherd with mutated colours!